Admission – 2018 -2019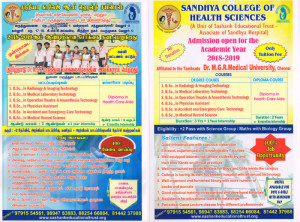 January 12th National Youth day  : Theme – Indian youth for development skill and harmony.
Processions, speeches, recitations, youth conventions and  music, sports and essay-writing competitions were organised.
4 February 2016 World Cancer Day : Theme – We can. I can.
Community awareness programs through street plays, road shows and quiz competitions for school students for preventing cancer and to fight against cancer were organised.
12 march 2016  World kidney day  : Theme – Work together to  protect the kidney
World Kidney Day is a global awareness campaign aimed at raising awareness of the importance of our kidneys
A medical camp was organized in tribal area to raise awareness about our "amazing kidneys" .Highlight that diabetes and high blood pressure are key risk factors for Chronic Kidney Disease (CKD)and systematic screening of all patients with diabetes and hypertension for CKD.
24th  March 2016  world Tuberculosis day : Theme "Find TB. Treat TB. Working together to eliminate TB".
The student  participated in the roll play and  explained about tuberculosis , its management  and the strategies to stop tuberculosis  with a slide show presentation.
MARCH 12, 2016 ; FEMALE FOETICIDE
A rally on the prevention of female feticide was conducted by our students . The rally started from perumugai and covered the near by colonies and market places.
MARCH 8, 2016 :  INTERNATIONAL WOMEN'S DAY Theme  : Pledge For Parity

International women's day  was celebrated on march 8th reiterating  the social, economic, cultural and political achievement of women.Students organized various programmes viz skit , speeches/Debate etc highligting  the gender parity.
April 7 : World Health Day 2016 Theme – Beat diabetes
A Diabetes screening camp was conducted in Vallalar,vellore on  7th April 2016 with the support of Sandhya Hospital .
May 19 ,2016  : Worlg Hepatitis Day theme "Prevent Hepatitis: It's up to you".
World Hepatitis Day is celebrated by organising various activities and events such as arranging free screenings, , poster campaigns, concerts, talk shows, demonstrations, essay writing, flash mobs, vaccination camps.,
June 14 World Blood Donor Day 2016 Theme: Blood connects us all
World Blood Donor Day celebration brings a precious opportunity to all donors, The students donated the blood during the camp. we motivate voluntary blood donors through educational programmes and campaigns in order to strengthen the blood transfusion services.
1 – 7 August World Breastfeeding Week 2016 Theme A KEY TO SUSTAINABLE DEVELOPMENT"
The student has participated in the Roll play and have explained about importance of breast feeding by puppet show presentation.